‍
Supports Joint and Muscle Health
‍
Supports a Healthy Immune System
Experience the Power of Turmeric
Turmeric is the popular supplement that has taken the health community by storm. With such a wide range of active properties and health benefits, it's easy to see why everyone is raving about it.
The VitaPost Turmeric Curcumin Plus formula is vegan friendly, consisting of BioPerine® and turmeric extracts. One serving provides a significant serving of the primary active ingredient, curcumin, which can support joint and muscle health, provide potent antioxidant support, and support a healthy immune system. The benefits don't stop there. The antioxidant potential of curcumin can have supportive effects throughout the body, including in the brain.
Ingredients featured in:
‍
High-Quality Ingredients
VitaPost Turmeric Curcumin Plus is made with high-quality turmeric extracts, along with the patented peppercorn extract BioPerine®.
‍
Antioxidant Support
The ingredients in Turmeric Curcumin Plus work together to provide antioxidants that can support general health, joints, muscles, the brain and other organs.
‍
Made in the US
VitaPost Turmeric Curcumin Plus is made in the US in an FDA registered facility that follows GMP guidelines. Ingredients in the formula are both domestic and imported.
High Standards
‍
FDA Registered Manufacturing Facility
VitaPost Turmeric Curcumin Plus is made in an FDA registered facility that adheres to GMP guidelines
Turmeric
Turmeric is a relative of ginger, and as a plant it looks similar. It has been a staple of Asian wellness practices and cuisine for thousands of years.1 Turmeric has earned its place as one of the most popular food supplements ever, and with so many reported benefits, it's no wonder! From its strong antioxidant properties to body & mind health, turmeric has captured the attention of both the natural health and scientific communities. 2,3
Curcuminoids
Curcuminoids are natural polyphenol compounds derived from turmeric. Curcumin is the main one. Primarily, curcuminoids are known to have a powerful antioxidant effect, and studies indicate that curcuminoids also provide support for the immune system, cognitive function and joint health.3-5
BioPerine®
BioPerine® is a patented extract of peppercorn and its close cousin, long pepper. The chemical name of BioPerine® is piperine. Piperine is responsible for the distinct pepper taste that many of us love at the dinner table, but more importantly piperine can dramatically increase the absorption of some nutrients into the body. Most relevant here is piperine's effect on curcumin (turmeric) absorption. When piperine and curcumin are eaten together, there can be a 20-fold increase in bioavailability compared with curcumin alone! Who would have thought that pepper could make turmeric so much more potent?6-8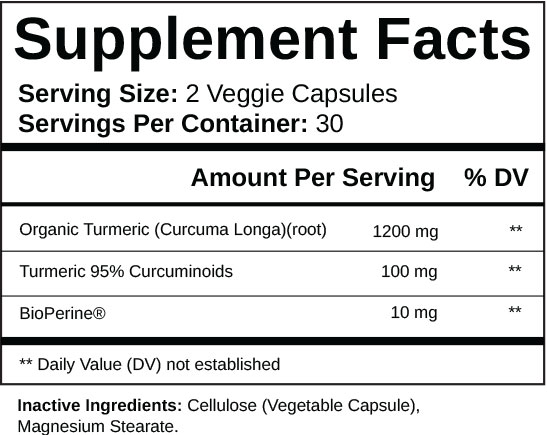 Testimonials from our customers
Don't just take our word for it, thousands of customers have experienced the results for themselves and this is what a few of them had to say:
Already a customer? Write your review now ‍
‍
This reduced the inflammation in my wrist within a couple of weeks. Great product.
‍ Yes, I would recommend this product
‍
Just coming to end of my bottles now (4 months) and definitely ordering more.
‍ Yes, I would recommend this product
‍
So far so good.... -
Olivia
I was advised by my nutritionist to take turmeric for inflammation. It\'s a bit early to determine how much it helps, but so far, so good. Recommend.
‍ Yes, I would recommend this product
Click here to read all reviews.
Turmeric In The Media
Turmeric has become one of the most talked about health foods in the media to date. Notably famous for its super antioxidant properties, turmeric boasts over 600 potential benefits as a dietary supplement.
"As piperine enhances curcumin absorption in the body by up to 2,000%, combining the spices magnifies their effects."
Published by Healthline, July 2018
"As of January 2015, there are nearly 5,000 studies and articles on curcumin or turmeric listed in the National Institutes of Health PubMed database, which is considered one of the top directories for medical research."
Published by Fox News, October 2015
"It appears that there are health benefits to including turmeric in your diet. The golden spice supports immune health, ... and can aid in digestion, among other things. "
Published by Medical News Today, May 2018
‍
‍
Unlock the Benefits of Turmeric Today
Turmeric is one of the most popular health foods on the planet. Here are just a few ways VitaPost Turmeric Curcumin Plus can benefit your health and wellbeing:
‍Helps Support a Healthy Immune System
Turmeric has grown a lot in popularity for its ability to support a healthy immune system. Studies show that the curcumin in turmeric isn't generally well absorbed, and so we've addressed that by including BioPerine® into our Turmeric Curcumin Plus formula. The piperine in BioPerine® ensures you're getting more from turmeric.9-13
‍Supports Muscle and Joint Health
The curcumin in VitaPost Turmeric Curcumin Plus has a strong antioxidant effect that can be of benefit in supporting joint and muscle health, by fighting free-radicals and oxidation. Curcumin's support of a healthy immune system also plays a role in joint and muscle support.3,14-16
‍Supports Healthy Cognitive Function
Studies have linked taking curcumin (turmeric) daily with healthy brain function. Academics believe this may be a result of curcumin's antioxidant potential.17-21
FAQs
‍Taking Turmeric Curcumin Plus
Do I need a prescription for Turmeric Curcumin Plus?
Turmeric Curcumin Plus is available for purchase without a prescription.
How do I use Turmeric Curcumin Plus?
Take two (2) capsules a day with food or as directed by your healthcare professional. This product is intended for use in conjunction with a sensible diet and exercise program.
Do not exceed recommended dose. Pregnant or nursing mothers, children under the age of 18, and individuals with a known medical condition should consult a physician before using this or any dietary supplement.


I don't enjoy swallowing capsules. Do I have any other options?
While the Turmeric Curcumin Plus capsule can be taken apart and absorbed in your favorite drink or food, we would not recommend this due to the taste. As this capsule contains compact powder, we would also not recommend splitting the capsule in half and attempting to swallow the halves.
‍Shipping, Sizes and Quantity
What are my delivery options?
We have global distribution to 20 countries worldwide. This list of countries is available in the first step of checkout.
Orders are processed immediately and shipping depends on which option you choose:
| Description | Price |
| --- | --- |
| USPS - Standard (3-5 business days) | $4.95 |
| USPS - Second Day (2-3 business days) | $9.95 |
| UPS/DHL/USPS – Tracking International (12-15 business days) | $9.95 |
How many capsules are in 1 bottle of Turmeric Curcumin Plus?
Turmeric Curcumin Plus contains 60 capsules in every bottle. This is equivalent to a 1-month supply.
How big are the capsules?
The capsules are a standard 0 size, which is less than an inch long (22mm). Most people consider this size easy to swallow.
Can I return my unopened bottles of Turmeric Curcumin Plus?
Yes, we stand behind this supplement 100%, so we're more than happy for you to return your unopened bottles of Turmeric Curcumin Plus within 5 months of purchase.
Voluntary returns are valid at our sole discretion. Any reimbursement will be determined by the total number of bottles (including free bottles) you received, the number returned, and the total product cost to you. See our Return & Refund Policy for more details.
‍Ingredients and Restricted Diets
Is Turmeric Curcumin Plus free of common allergens?
While the formula does not contain common allergens, this product is manufactured and packaged in a facility which may also process milk, soy, wheat, egg, peanuts, tree nuts, fish and crustacean shellfish.
For uncommon allergens, please check the ingredients list.
Is Turmeric Curcumin Plus a vegan product?
Yes, Turmeric Curcumin Plus is a vegan product.
‍Certification and Manufacturing
Are these certified by the FDA?
The FDA does not certify dietary supplement products, such as Turmeric Curcumin Plus. However, Turmeric Curcumin Plus is manufactured in an FDA registered facility that follows GMP (Good Manufacturing Practice) guidelines.
Where is it manufactured?
Turmeric Curcumin Plus is manufactured in the US from quality imported and domestic ingredients.
Experience the power of Turmeric, Curcumin and BioPerine® Combined
With so many reported benefits, turmeric could be a great addition to your diet.
Limited time offer,
buy 3 and get 1 free! ‍